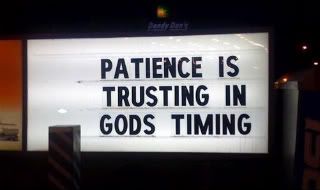 I don't know about you, but I wasn't patient enough to stand in line to get all the patience this life requires, but, I am striving for more everyday, and sometimes I can see the fruits of my hard-earned patience.
Take today for instance... DH actually did what I recommended! A small feat or a large one, you decide :) Maybe there is hope for our marriage and our future. I can take it one small step at a time, at least most days ;) [see, told you I wasn't very patient!]
I'm reading "My Husband, My Maker" by Sharon Ries maybe its all sinking in??? who knows?!?! but I am thankful!